Banners

A big area calls for a big statement. And that's exactly what we deliver with every banner we print.




Brochures

With professional design and printing, our brochures are sure to sell. From the big idea to the small details, our team has years of experience to get the job done.




Business Packages

Shouldn't your stationery be as unique as your business? Give your company an engaging brand identity through professionally designed letterhead, envelopes and business cards.




Design

Your business is too important to rely on beginner design. Let our pros handle the concept, design and layout of your piece, and give every design the credibility it deserves.
Is your project ready for production? Are you still kicking a few ideas around? Do you need to budget for your next project?

Whether it's an existing order or new, we can make the process simple and easy.

Our online file transfer system allows you to easily send us a file.
Full Service Digital & Offset Printing in Rochester
Welcome to Ultraprint Corporation!
Rochester's full-service printing company.
At Ultraprint, we provide printing the way you want it, when you want it. With a combination of state-of-the-art, high quality digital printing equipment and our own proprietary expertise we are able deliver custom branded company internal printing collateral and marketing material that convert shoppers into paying customers. We work with nearly 400 companies who require the quality that we provide, the confidence that things will done right and the peace of mind it will be ready on-time - plus we have the ability to offer a wider range of quantity options - without sacrificing quality or value.
With over 45 years of experience, we can handle any job—business and promotional printing, stationary and letterheads, posters and signs, color copies, photo prints and much more.
Take a look at all of our printing services or contact us to work out the details of your project.
---
Big Benefits of Launching a Business Podcast
Posted on 03/11/2019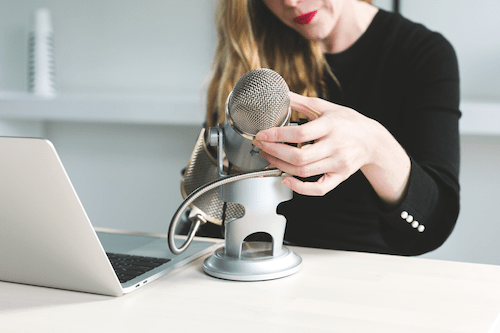 If you're in the business world, you know how quickly technology influences marketing trends. What used to be strange, unknown or even nonexistent is now the bold new frontier in marketing. And when it comes to staying ahead of the trends, marketers and business professionals have to be willing to take the leap. For example, take the podcast. 
Podcasts are a relatively new form of media, but have significantly grown in popularity over the last decade or so. Today, according to the 2018 Infinite Dial Study, nearly two-thirds of Americans are familiar with podcasts, and 44% of them age 12 and older have listened to one. The podcast audience is growing, so businesses are jumping on board with their marketing. We've put together a list of big benefits of launching a business podcast.
Podcasts drive traffic.
Establishing a podcast is the perfect way to add in another stream of traffic generation for the company. Podcasts allow the business to reach out to new and various audience members. The more audience members who listen to your podcast, the more who will subscribe and the more they will recommend it to others around them. These streams of traffic can help drive in new leads for the business to explore later on.
Podcasts build better relationships.
While you can definitely demonstrate voice through media like blog articles or website content, nothing truly exemplifies it like your voice itself. People listen to podcasts because they believe they have something in common with the speaker. Even though a podcast is a one-sided medium, listeners still feel a certain camaraderie with the presenter. This commonality establishes a solid foundation to build a positive relationship on, which generates leads.
Podcasts act as video alternative.
You already know video is a crucial part of any marketing strategy. However, shooting videos can be difficult. You might not have the necessary budget, equipment or even comfortability to shoot a brand video. And what's worse than not shooting a marketing video? Shooting a bad marketing video. Alternatively, podcasts tend to be more affordable and easier to create than their video counterpart, as they don't require lighting, equipment or even actors.
Podcasts improve your brand.
Needless to say, with more traffic, better relationships and affordability, podcasts can also significantly improve your brand. If your business struggles to close the gap between presentation and public image, podcasting could be the right move. Thanks to its personal and informative nature, podcasting gives you a foundation to build a brand with people who aren't familiar with the company, and establish a better bridge with those who already are.
Podcasts can increase revenue.
What's one of the biggest benefits of a podcast? An additional revenue stream, of course! People don't go into podcasting just for the fun of it—it's also an excellent way to make extra money. According to the Interactive Advertising Bureau, the podcasting industry grew 86% between 2016 and 2017, reaching a record $314 million in revenue. Things are only expected to go up from here, with the industry's revenue projected to reach $659 million by 2020. If you want to make some extra money for the company, podcasts are the place to be. 
If you want to stay on top of the latest marketing trends for your business, consider starting a podcast. Keep these benefits in mind as you explore the world of podcasting and see how your business grows because of it.